Culdee, named after Culdee Fell, is the number 4 engine on the Culdee Fell Railway.
Culdee was built in 1899 in Winterhur, Switzerland along with Shane Dooiney. After completing test runs in Switzerland, he was taken to Sodor in 1900. He helped finish the last bits of the railway and was chosen by the inspector as an engine for a test run down Culdee Fell. The inspector made him roll down the mountain without brakes, which was absolutely terrifying for him. However, he realized he had automatic brakes, which the inspector was testing. Culdee's automatic brakes worked very well, and the inspector was pleased. He began full service in July along with the other 5 engines. Although he did not witness Godred's accident (Godred came off further up the mountain), he had to go up and rescue the passengers. In 1962, Culdee was sent back to Switzerland for a much needed overhaul. He returned to Sodor the following year, but stopped at Crovan's Gate first where he met the Skarloey Railway engines. He returned shortly after Lord Harry, Alaric, and Eric had arrived, and helped get Lord Harry back on the rails after his foolish accident with points. Culdee also helped Lord Harry (or at the time renamed Number 6) rescue climbers in a massive wind storm.
Trainz Model
Edit
In The Search for Smudger, SI3D's model of Culdee is used. The Jonateers released a model but it doesn't have changeable faces.
Culdee is based on the Snowdon Mountain Railway's number 4, "Snowdon".
Appearances
Edit
Voice Actors
Edit
Thomas1Edward2Henry3 (The Search for Smudger-present)
RWS Appearances
Edit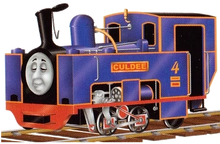 Culdee, along with the other CFR engines, never appeared in the TV series. In the Railway Series, he and the other CFR engines only appeared in the book Mountain Engines.