Skarloey is a narrow gauge steam locomotive that works on the Skarloey Railway. He is one of the oldest engines still in service on Sodor.
Skarloey was built in 1864 alongside his twin Talyllyn in Towyn, Wales. He arrived on Sodor a year later and was taken by Neil to the Skarloey Railway, which he was named after. At first, he was an arrogant and fussy little engine and refused to pull cars. This led to him being left as a "crosspatch" under a green sheet. He was given a cab a year later, which caused a great deal of conflict between him and Rheneas. The two of them refused to speak to each other until Rheneas had to rescue Skarloey from a mudslide.
Skarloey and Rheneas worked hard, but Skarloey didn't age as well as Rheneas. He was then left as a spare engine in 1945, only being used for emergencies. In 1952, however, after taking over Sir Handel's train, he broke a spring and was sent for a much needed overhaul. When he returned he was once again in 1958, a working engine and has been so ever since.
In April 2014, Skarloey had quite a traumatizing experience when a gang of thieves hijacked him for his gunpowder train. Fortunately, Sir Handel, Bertram and the Sodor SWAT team came to his rescue.
Personality
Edit
Skarloey usually has the personality of a leader, although there was a few instances where he was child-like.
Trainz Models
Edit
Number 1 Thomas Fan's "baked" Skarloey model was used until Attack of the Railway Pirates. From then onwards, SI3D's 2012 model was used, with the previous being used in shots with other 2006 engines.
Skarloey is based on Talyllyn from the Talyllyn Railway.
Appearances
Edit
Voice Actors
Edit
Television Appearances
Edit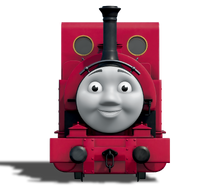 Skarloey has appeared in every season featuring the Skarloey Railway engines. These are seasons 4-7, 9-12, 16-18, and 20. He is voiced by Keith Wickham.